Mobile application or mobile version of the site – what to choose for brand promotion? Both options have their strengths and weaknesses, solve certain tasks. The main thing that business platform has been fully functional and had a good technical support.
To date, a modern business should pay attention not only to web development, but also to adapt to mobile devices (mobile applications). A significant part of users use the Internet every day. If a potential customer will have access to your resources are always right in your pocket, it will return to you and does not want to go to a competitor. Thus, adaptive design or mobile app – which option will be more convenient and profitable for your particular business?
Adaptive site and its features
Adaptive website (correct display of the site on different devices) – what is it and why is it needed? Talking about the adapted version of the website, which is run only in browser version. Unlike standard sites, a mobile resource is developed specifically for smartphones and tablets.
Adaptive site is characterized by fast loading and lightweight design. The page will be opened in the right amount of user – do not have to increase or decrease it. This is a convenient solution to the issue of providing access to the resource via mobile devices.

What is a mobile application
Let's analyze what a mobile application is and what differences it has from the adapted browser version of the site. Application – software designed to run on smartphones, tablets and other mobile devices, developed for a specific platform. Be sure to download the software on a tablet or smartphone.
Applications downloaded in shops App Store, Google Play Market and some other resources. Download may be free or paid, often programs are free, but support the purchase of in-app purchases (premium feature).
Mobile software is developed for specific versions of operating systems, requires installation, and guarantees quick access to content. Like adapted versions of sites, there are strengths and weaknesses.
Advantages of a website for mobile devices
Mobile responsive website has the following advantages:
Good compatibility – such a site is suitable for all types of tablets, smartphones; you do not need to develop a separate version for each operating system. Mobile sites are available for integration with features such as text messaging, QR-codes.
Wide coverage – applications have an impressive target audience. By supporting several devices at once, the widest possible range of users is attracted. This is a definite plus for any business.
Simple support and maintenance – make improvements in adaptive websites much easier than in the native application (and therefore cheaper).
The development of mobile version of the site – a relatively inexpensive way to reach a wider audience. It has a lot more pluses than minuses.
Cons of responsive development
There are also disadvantages:
The average level of comfort – the site may not use all of the smartphone features (camera, phone calls, etc.).
Difficulties with Offline Access – it is possible only in the case of caching. To complete the work necessary to connect to the network.
Mobile application: features
Pros of a mobile app
Mobile applications are developed for different types of operating systems. Their advantages:
Ease of use – every day the popularity of applications is growing in comparison with sites. They guarantee optimum interaction and create conditions for rapid trouble-free content download. There is a push notification.
Personalization – applications are suitable for permanent use, allow you to create accounts, store data on your smartphone.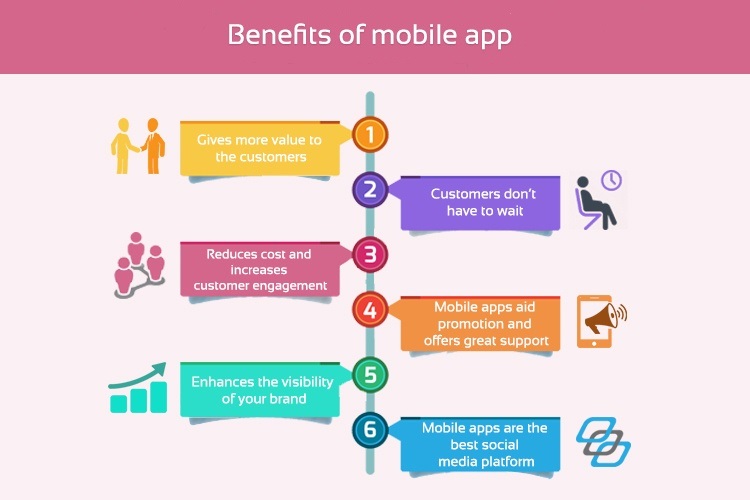 Cons of software
Disadvantages of mobile applications that you need to know and take into account:
Possible problems with compatibility – for the normal operation of the native applications it is important to full compliance with the requirements of a specific operating system. For each platform, you need a separate version of the program.
The need for ongoing support, maintenance – if the application is being developed for different platforms, it requires the support of more money and time. Regularly will need to do an update, fix compatibility issues, etc.. Support for mobile applications, the constant improvements require some investment, this cost should be included in the advertising budget.
Conclusions
The application is ideal for interactive games, solve specific business problems, etc .. The cost of creating such software is higher than the development of an adaptive version of the site. Mobile design is suitable for all types of operating systems and does not require complex support, which cannot be said about downloadable applications. Mobile software can be paid and free, but keep in mind that in the first case, the audience will noticeably decrease. Your task is to increase customer loyalty and provide them maximum comfort.
Are you still thinking about choosing a responsive website development or a mobile application? Please contact us for advice and our specialists will promptly describe to you all the advantages, cost and terms of developing your idea!
By the way with all the mobile apps advantages for business you can read our updated article!
---