WHAT IS IT, WHAT ARE THE DISADVANTAGES OVER FULL-FLEDGED APPLICATIONS AND WHICH COMPANIES WILL FIT.
There is no doubt — a mobile application is an integral part of modern companies. According to Clutch, 42% of small businesses have built a mobile app. That number is expected to increase to 67% by the end of 2017. Approximately half (49%) of small businesses dedicate in-house resources to support mobile app development and investment.
But at the same time popularity of mobile apps caused a lot of problems. The demand for development studio services exceeds the supply, this affects not only the quality and timing, but also the prices.
Choosing the path of least resistance, in some cases it makes sense to resort to the use of the so-called "Hybrid" applications. A "hybrid" application is an ordinary mobile site, "wrapped" in the native built-in browser of the mobile OS and working as an application.
Inside such an application is a website adapted for the mobile device. Through the native components of operating systems, it can access push notifications and geolocation, and it can be distributed through application stores.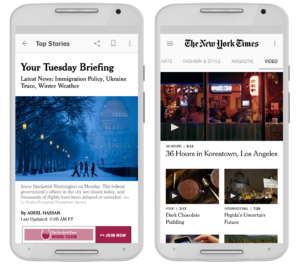 Example: NYTimes app. Everything inside is web content  
Obviously, this type of application is best suited for those who already have ready-made sites, adapted for mobile devices, and who want to quickly test the hypothesis of using a mobile application by users.
IN WHICH CASES IS THE "HYBRID" APPLICATION SUITABLE:
You want to quickly and cheaply test the demand for the application

If you do not need complex functions (complicated work with data, or camera, etc.);

You want to expand your audience;

You want to represent your company to the AppStore and GooglePlay.
DISADVANTAGES OF "HYBRID" APPLICATIONS:
High quality of realization of adaptive design of a site is required;

Not native (non-native for the platform) interface, the presence of a number of restrictions;

The speed of the work and response of the interface is less than that of native applications;

Possibly incorrect display on some devices;

Cross-platform is imaginary, and the application will look strange, in this case;

Complexity in application support and extreme adaptation to new OS capabilities.
In conclusion, we may say that the Hybrid Apps worth to use as prototypes, generally. So you can evaluate the reaction of users to your idea and get some kind of feedback. But if your theory of relevance eventually will be confirmed, then the application will have to be done anew — most likely, in the native form.
In order to order an application or get a free consultation on mobile applications, turn to https://lampalampa.net/
On the materials: http://www.cossa.ru
---