The confrontation between Java and Kotlin is one of the most notorious topics in recent years. On the one hand, Java is a time-tested and ubiquitous option, on the other – Kotlin has its advantages. Both programming languages are used in the development of programs for devices running on the Android platform.
Advantages of Java Language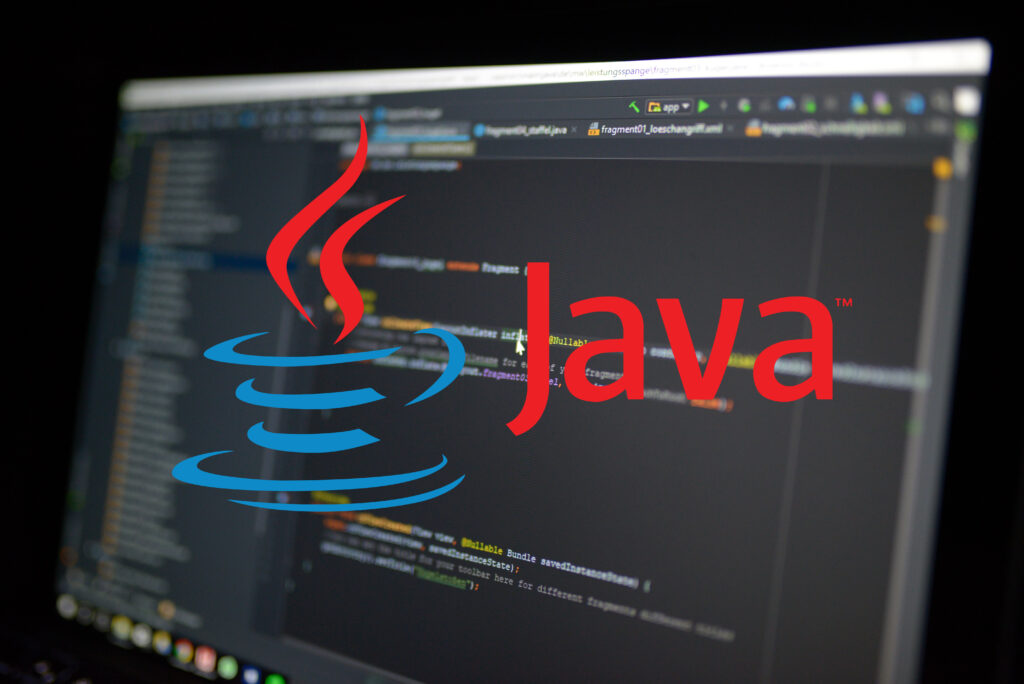 Developing Android applications in Java provides both developers and users with a wide range of benefits. Using the platform, you can get programs that are 100% compatible with different types of machines, work without problems with Linux, Windows, Android OS.
Java community – one of the most influential in the world. Programming language:
universal;
easy to learn;
platform independent;
it allows you to write modules of the program;
used in network programming;
dynamic and efficient;
giving security guarantees.
When writing applications in Java, the code is verbose and long, which not everyone likes. The writing process itself is constantly being simplified, becoming clearer and more precise. This minimizes the chance of errors.
Interpretations of Java constructs are mostly simple and unambiguous. Old codes do not break after updates. This distinguishes Java from Swift. Java is a good choice for a beginner – the community is huge, there are a lot of educational materials (paid and free) freely available.
Features of developing mobile applications on Kotlin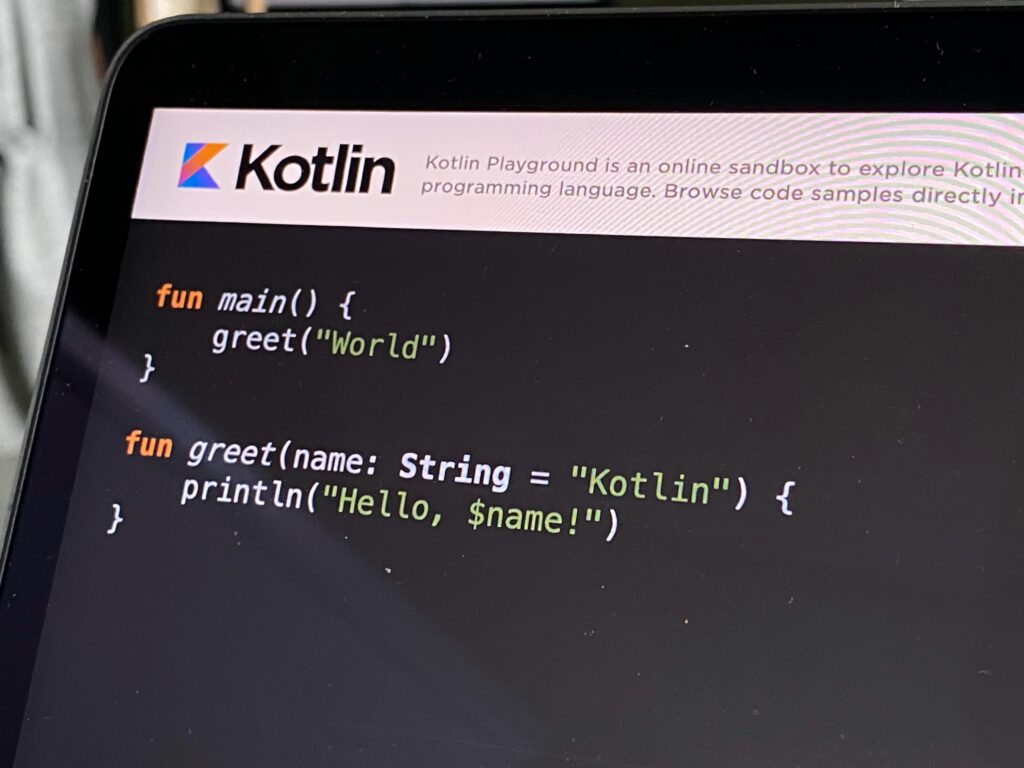 Android development on Kotlin enjoys no less in demand than Java. The creator of the language is JetBrains, Kotlin on Google I / O is officially announced as the second Android language. There is support for a working relationship with the cloud platform Gredl Spring Google. Kotlin creators claim that the applications can be much more fun, fast and exciting development. The language community is constantly growing.
Kotlin language programming has advantages and offers the following features:
open codes, free implementations;
programs use frameworks, Java libraries;
compilation to JVM bytecode, JavaScript are available;
learning process simple;
high security level;
Java transformation in Kotlin automatically.
Thanks to Kotlin, the application will work correctly, regardless of the code review. Writing codes is short and expressive. There is integrated support from the IDE (full list of options). For comparison, what is placed on several lines in Java takes only one here.
Why is Kotlin better?
We figured out the peculiarities of each programming language, now we will consider their competitive advantages.
Kotlin – advanced programming language. It has improved productivity, intuitive and consistent syntax for improved speed of work. To create a deployment of a finished program, you need fewer lines of code and, accordingly, less time.
Compatibility of Kotlin and Java is 100%, that is, Java methods can be easily called from Kotlin. This is a plus for developers and customer organizations with the Java codebase. Language support is simple, because it is integrated into the IDE, SDK. List of tools to work, you can use the standard.
The latest versions are backward compatible with previous. This causes the reliability of the code, saves developers from having constant revision of codes of different versions. Learning Kotlin is much easier than Java, knowledge of developing applications for smartphones is not required.
Android Studio provides advanced support for Kotlin, a complete list of adaptation tools. Programmers can work on Kotlin with Java at the same time. At the same time, the compilation speed of the code can fluctuate, which is not always convenient. Sufficient community support, although Java has more. So far, not many developers work in the popular language. You need to pay attention to the main functions and create applications using them.
Why is Java better than Kotlin?
Java has its advantages, which can be summarized as a number of competitive advantages over Kotlin. First – portability. Using the Java virtual machine, programs in the language run on any system. Maximum compatibility causes the developer language leadership in the segment Android-creation applications.
The Java community is huge. Thanks to resources such as GitHub, Stack Overflou developer can get quick help and support on any issue. The language is cross-platform and suitable for creating relevant applications. Available wide range of ready-made libraries, SDK to simplify the development.
Java is lagging behind in terms of speed of implementation of the current problems. Need more memory compared to Kotlin and other programming languages, the work is slow enough. There are many components in the code, so the final result is long and heavy, often contains errors and bugs.
So will Kotlin kill Java? It's too early to talk about it yet. Java is a well-known language that copes with the assigned tasks, has a wide range of libraries, open source tools. It's not perfect, but every programming language has its drawbacks.
The downside of Java is its complexity – it is positioned as a base for beginners, but there are much easier options to work with. Kotlin is faster to learn and improves the Java ecosystem. Special attention should be paid to the stability of Kotlin, its compliance with Android Studio tools. Some developers believe that in the future the language may supplant the good old Java. It is too early to talk about such changes. Each programming language has its own weaknesses, strengths, and solves certain problems. There are projects where the functions and components of both options are important.
Conclusions
Java and Kotlin – the most popular languages for developing all types of applications on smartphones, tablets, running the Android OS. They have their own strengths, weaknesses, which should be considered when choosing. It makes sense to choose the best option for each specific task. So Java has primitive types (not classes), static members, private dedicated fields marked with lists of exceptions, Wildcard – these options are not available in Kotlin. But Kotlin has singletons, ready-made string templates, a convenient extension, Null security, smart smart castes.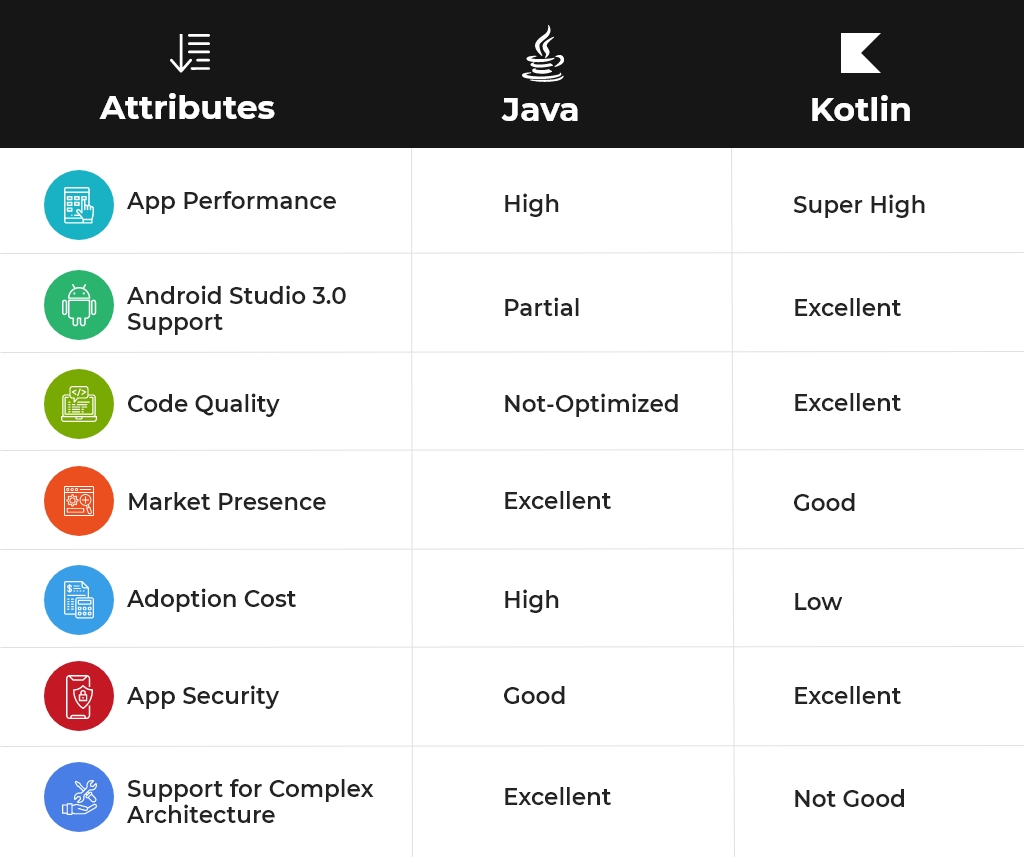 Developers will be helpful to be bilingual, regularly update knowledge, skills with the latest trends. Now the advantage in Android development remains with Java, but in the future this may change. Kotlin use easier and more convenient Java program code is actually shorter by half. Kotlin also eliminates some errors that are inevitable in the implementation of current tasks, simplifies the detection of others. The developer spends less time with comparable results.
---