Today, there are dozens of operating systems (OS) on the mobile device market, but we will talk about the two most popular ones that have captured more than 80% of the market – iOS from Apple and Android from Google.
But which of these systems choose to develop mobile applications? Unlike desktop computers, where it is possible to choose the operating system, smart phones and other gadgets, as a rule, have a single system.
iOS differs from Android operating systems in that it is only installed on devices manufactured by Apple. This means that the target audience of this OS is much smaller than that of Android.
For comparison, we took a few countries and the percentage of smartphone OS: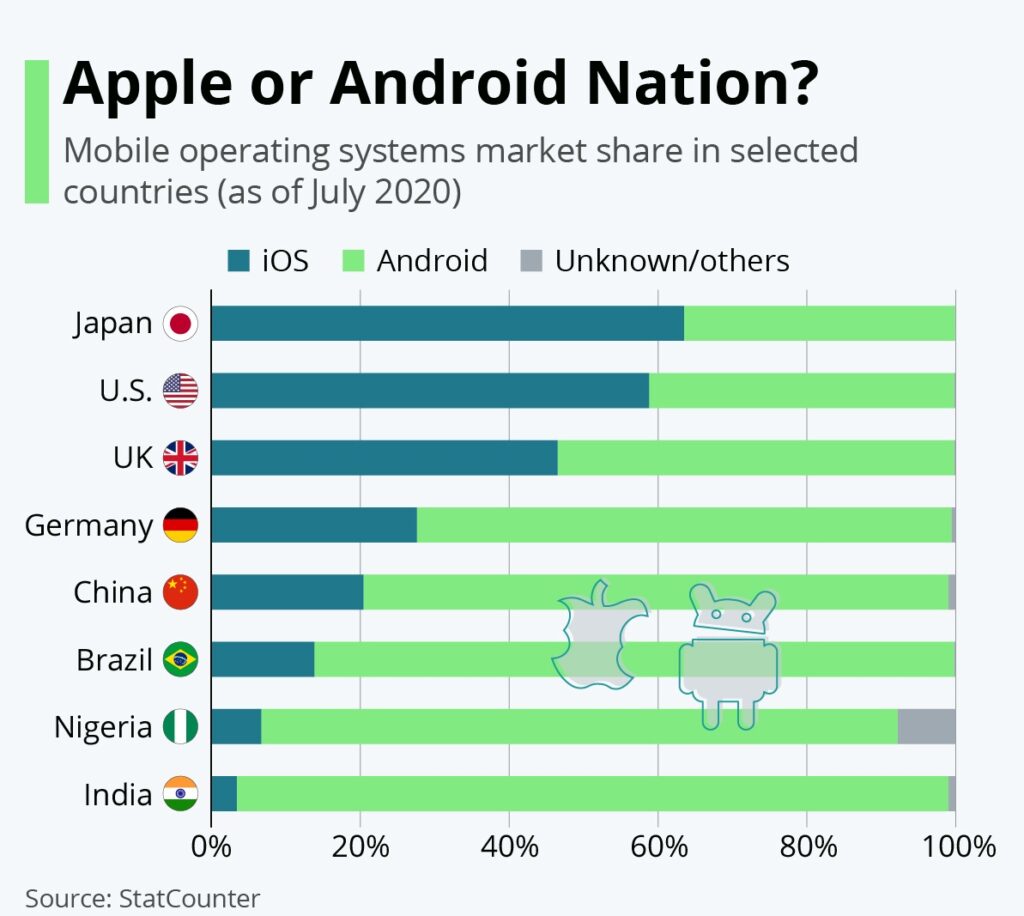 Before starting the development of mobile applications, you should select for which OS the application will be created. In this article we will look at the pros and cons of iOS from Apple.
Advantages of Mobile Development for Android
Choosing the development of Android applications, one should note the popularity of this OS. Even comparing to Apple's main competitor, Android's market share is huge – over 70%. That is, seven out of ten owners of the smartphone operating system Android.
Google released a comfortable development environment – Android Studio based Intellij Idea, which has helped to significantly increase the speed of development and significantly simplify the development of Android applications. You can also use the Android Developer Tools Kit, which simplifies coding. It provides:
debugging tools;
Designer GUI;
emulators;
support for automated testing.
The main languages of the development of applications for Android is Java or Kotlin. Java is a common programming language with extensive tooling and many open source libraries. Kotlin – more stable and its syntax is much easier and cleaner. What is the difference and what language is better, you can read in our previous article.
The advantage for beginners is the availability of information, as it creates a lot of extensive guides that simplify application development since the beginning of work on it. Or if there is no ready-made solution, you can ask for help in any community development in Java or Kotlin.
When the examination stage, the choice of language and the most application development comes to an end, the question arises: where to place the application and how much it has to pay?
As in the AppStore, so in the Play Store you need to pay for the right to host your own applications. But the price of placement in stores of these platforms is significantly different. In the AppStore – $ 100 annually, and in the Play Store you pay only $ 25 once when registering an application, which is an indisputable advantage when choosing a platform for selling an application.
For clarity, you can see the statistics AppStore and the Play Store app stores: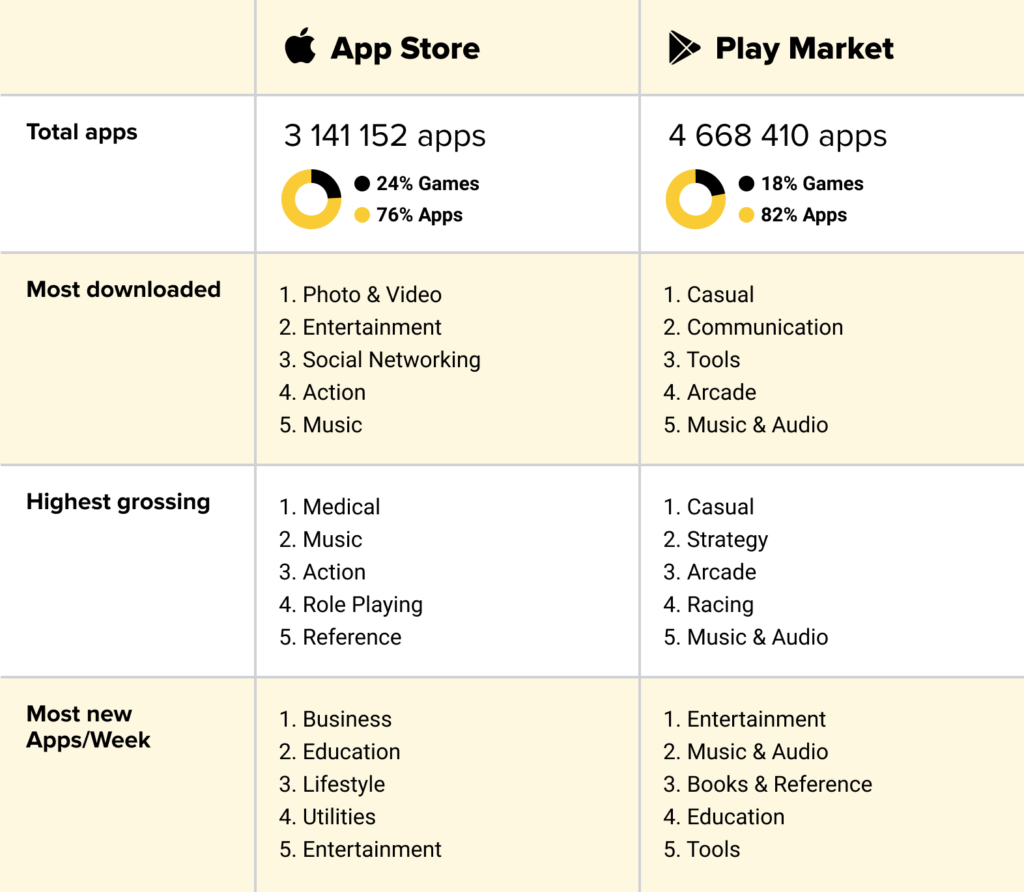 Cons of Android development
Also, it is necessary to talk about the problems that may face the developer in the process of creating an application for the Android OS. One of them – a strong fragmentation of the platform – on Android are hundreds of devices with different specifications, making it difficult to test and debug the application.
The following problem follows from the previous problem – a wide variety of screens creates additional difficulties in development. To solve this problem of different aspect ratios, you can't just take and stretch the application interface. We have to support multiple types of screens and to actually develop multiple copies, and this increases the number of hours spent specialist.
Developing applications for iOS: the main advantages
Let's move on to developing for iOS – this is an interesting platform that does not stand still and is constantly evolving. Despite the fact that iOS users are 2-3 times less in the world than that of Android, devices running Apple's famous for its high cost. So if you focus on the premium segment, it is necessary to choose to develop applications for iOS.
But let's talk about other advantages of this operating system.
Convenience and style of the interface. Developers from Apple has been created is really simple and easy to use interface.
As for the graphics part, it is all the same level – there are a variety of visual effects, animation, and other embellishments that do not load the system.
Programming languages: Objective-C or Swift. Objective-C is a proven compiled object-oriented programming language. However, the future of Swift, as it is more functional and easier. It contains the dynamic libraries that are loaded directly into memory, reducing the size of the original application, and increasing productivity. For comparison: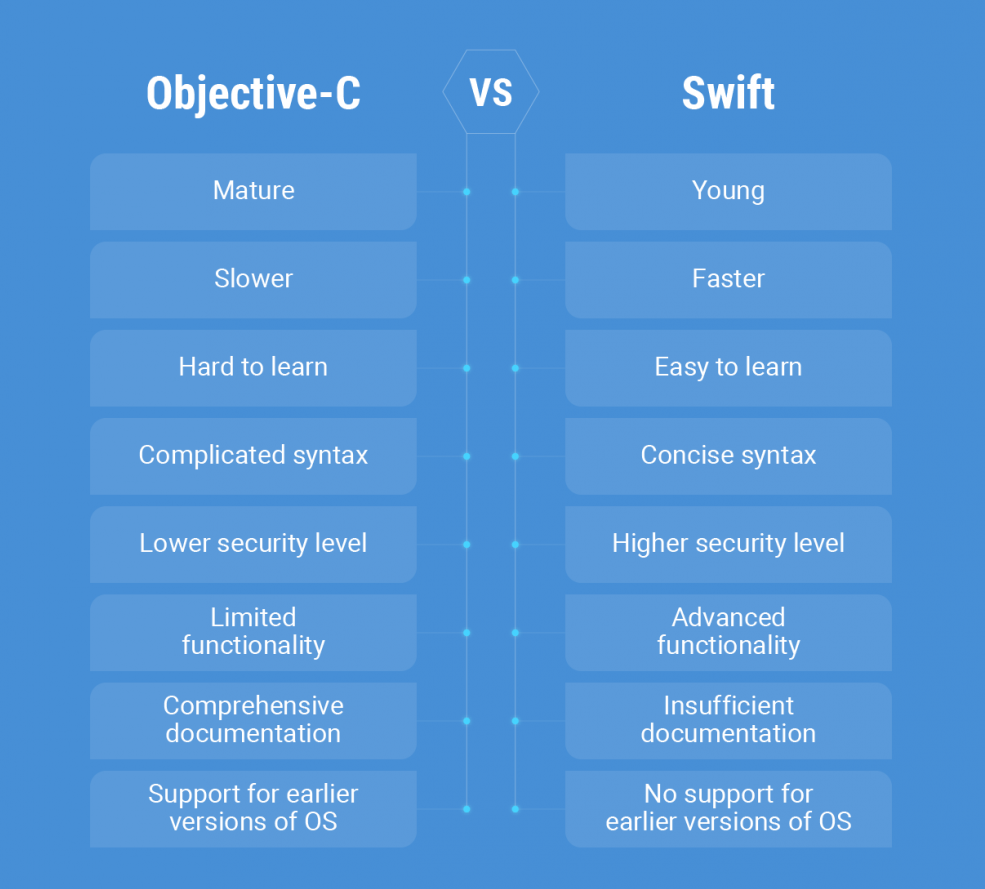 The absence of compatibility problems. iOS is a highly specialized operating system, which only functions on portable devices from Apple. This allows developers to carefully consider all the features and polish, removing the various problems and bugs (errors). This fact simplifies the number of hours spent on application compatibility with the operating system, because you need less retest and test unlike Android.
Cons iOS platform
Despite the advantages, in iOS, there are also disadvantages. One of the minor application development problems under iOS – is a thorough approval application when it is loaded in the AppStore. Unlike the Play Store, AppStore moderation can take up to two weeks.
In addition to the high cost, to explore the filling system, to climb in the system files and folders, you get only through unofficial firmware, since the OS file system is closed. Also, due to the relative closed nature of the system, the implementation of some functions on it is simply impossible.
Conclusions
There is no need to chase a specific platform – you can study Android for six months, and then easily switch to iOS. You don't have to throw away all the knowledge you've gained. At the initial level, almost everything you have learned will be applied to the other platform. But you must know and understand what products and for what target audience you want to develop.
When creating a new application, more logical would be to try it for a "cheap" platform, and only in case of success to run for a second. But again, it is necessary to consider all the pros and cons, but it needs to draw up a detailed TOR application.
If you're new to development, it is necessary to ask for help or take specialized courses, so you spend a lot of time to master the application development from scratch. In the case when you already have a ready-made idea, but you do not understand anything in programming languages, it is worth contacting specialists.
---